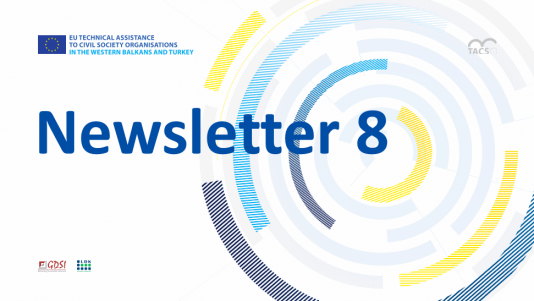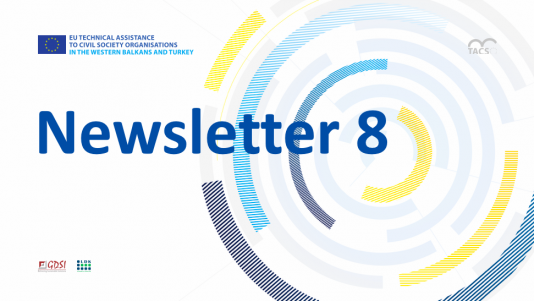 Welcome to the Spring edition of the EU TACSO 3 newsletter!
We are sharing news of upcoming EU TACSO 3 events, new EU funding opportunities and an introduction to some of the useful resources for CSOs on our website.
Civil Society Guidelines Assessment Report
We are pleased to announce the publication of the second Assessment Report against the EU's Civil Society Guidelines. This report is based on extensive research across the Western Balkans and Turkey and provides an insight into the state of civil society for 2020. That was a year of great turmoil for the region, battling the Covid pandemic and adapting to completely new ways of working. There is more in this newsletter below, and the full report can be found here.
New Funding Opportunity
The EU Civil Society Facility and Media Programme for the Western Balkans and Turkey has announced a new funding opportunity. A total of EUR 18 million is available to support regional thematic networks, small scale projects in support of good neighbourly relations between Serbia and Kosovo*, Regional CSOs networks promoting media freedom and freedom of expression, and the Quality Journalism initiative. The deadline for Concept Notes is 24 May. More details on the Call are available here.
The EU TACSO 3 project will host three online information sessions for those interested to apply. These sessions will be held on 27 April: 09.00 CEST for the general info session; 12:00 for a workshop on preparing concept notes, and 15:00 for a workshop on preparing full proposals. Register for the info sessions on the EU TACSO 3 website here.
EU Civil Society Conference: keep the date – 9 and 10 June
We are pleased to announce an upcoming keynote conference for the European Union and civil society in the Western Balkans and Turkey. EU TACSO 3 will be organising the conference on behalf of DG NEAR. More details on the venue, agenda and speakers will be announced soon. In the meantime, please keep the dates free: 9th and 10th June 2022.
If you would like to sign up to our regular newsletter and other communications, please send an email with your name, organisation and country to welcome@tacso.eu.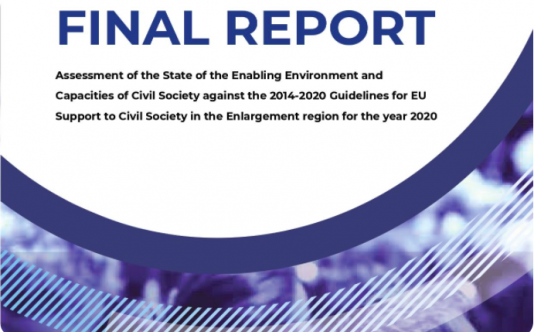 The 2020 Assessment Report against the EU Civil Society Guidelines is published
The EU Civil Society Guidelines is an instrument that provides a way of measuring progress in civil society development across the Western Balkans and Turkey. The latest assessment report looks at the situation during 2020 – a year marked by the Covid crisis and during which all our lives were disrupted to an extent that was previously unimaginable.
The assessment report provides evidence for the main trends and events that affected civil society – looking at the openness of civic space, the relationships between government and civil society, and the capacities of civil society and civil society organisations themselves.
The findings note that civil society and civil society organisations were profoundly affected during the year. Lockdowns moved communications and assemblies online. Government consultation on policies and legislation was drastically curtailed until new ways of working were established. Emergency measures restricted fundamental rights of movement and assembly.
Aside from the pandemic, civil society organisations in some parts of the region experienced undue restrictions in the name of anti-money laundering and countering the financing of terrorism.
Nevertheless, civil society organisations throughout the region responded to the pandemic quickly. They adapted services for vulnerable people and increased advocacy efforts, while at the same time public funding was delayed or even halted. Many donors responded with additional funds and simplified procedures. Volunteering increased, especially in social service provision, despite restrictions on movement and face-to-face activities.

The Government of Kosovo improves its Open Data on Public Funding for CSOs and Public Consultations
The EU TACSO 3 project assisted the government to upgrade its existing Platform for Public Financing of Civil Society Organisations in Kosovo. The upgrades ensure that data is more consistent and reliable. They also mean that it is easier for appointed coordinators in each institution to upload data directly – making data available more quickly. The data that is available on the portal can now be better analysed in various ways through improved data visualisation tools. This increased transparency can only help to improve the trust in government, and to help improve the efficiency and effectiveness of public funding to civil society. The next step is now to ensure that all public institutions – central and local – which provide funding to civil society organisations fully report and upload their data.
The EU TACSO 3 project also helped the Government of Kosovo to make data on public consultations more open. Interactive charts showing key statistics about consultations are now available online at the Platform of Public Consultations in Kosovo. They show whether minimum standards for public consultations were met and also enable visualisation of various data. Research and advocacy organisations, as well as people who are interested in issues that are the subject of public discussion, can use the site to find out more information about upcoming, current and past consultation exercises. The new statistical modules enable anyone to explore data on, for example, how many comments and contributions were received on draft public documents, the profile of the contributors (eg whether CSOs, citizens, state agencies, religious bodies etc.), and summaries of how public institutions carried out their consultations.
The improvements to the consultation platform should lead to better legislation and strategies by making the processes of public policy making more transparent and open to different points of view. Ultimately, better policy-making means improved quality of life for all citizens.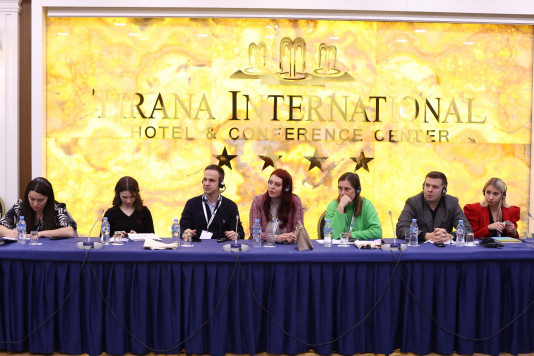 EU TACSO 3 continues its support for People to People On-demand
The People to People (P2P) component of the EU TACSO 3 project supports initiatives by civil society organisations across the Western Balkans and Turkey to organise events that, as its name suggests, bring people together. The aim of the P2P component is to enable CSOs to take a more active role in democratic processes and support an enabling environment for civil society development. P2P events are opportunities for CSOs to expand their knowledge about the EU and the accession process through visits to the European institutions, meetings with EU based CSOs and the opportunity to network internationally and regionally in the areas and themes they work on.
Workshop on EU Accession for Montenegro and Albania
In February, Civic Alliance, a CSO from Montenegro, in partnership with the School for Political Studies in Albania, organised a two-day workshop in Tirana on the theme of EU integration. More than 40 people from both countries took part, including representatives from civil society organisations, young politicians, MPs, representatives of political parties, journalists, representatives of state and international organisations, trade unions and religious communities attended and made vibrant contributions to the debate. The workshop succeeded in increasing the level of understanding of the accession process, shared experience between Montenegro and Albania, and generated enthusiasm for continuing accession efforts. Read more here.
Study Visit to the European Commission in Brussels
In early April, the 'Think for Europe Network' (TEN), in partnership with the European Policy Institute in Skopje, organised a study visit to Brussels for leading independent think tanks across the Western Balkans.
In Spring 2022, the geopolitics of accession is looking rather different to the way it looked only three years earlier when a revised enlargement process was launched. Conflict, pandemic and creeping authoritarianism have re-shaped the way Europe sees itself. However, it is perhaps too early to have clarity on the impact that these profound changes will have on the prospects for enlargement. The TEN Network study visit is bringing the Western Balkan researchers to Brussels to discuss with representatives of the European Commission, the European Parliament and Brussels-based think tanks to explore the likely scenarios for the coming years. They aim further to develop ideas for reinvigorating the accession process. Read more here.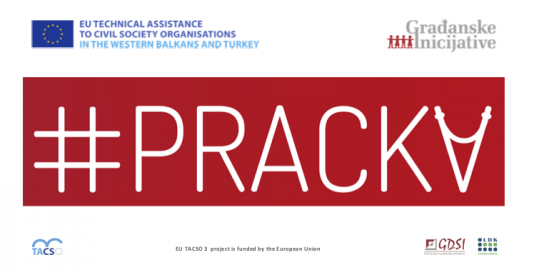 Coming soon: PRaćka Conference on Communications
Later in the month, EU TACSO 3 is supporting the Serbian CSO Civic Initiatives to organise the 'PRacka' ('slingshot') conference on civil society and communications. This will take place on 20 and 21 April. The event will bring together media experts and CSO communications leads and will tackle topics such as the shrinking space for CSO actions, how to explain CSOs' work to a wider public, and building the transparency and credibility of the civil society sector. Over two days, there will be a rich agenda of practical workshops, lively debate and stimulating presentations. Media professionals, including experts in new media channels such as TikTok and podcasting will bring their expertise to share with civil society communications experts. Participants are expected to come away inspired and enthusiastic.
Find full information here.
To register to participate via Zoom, please follow this link.
Useful resources
Have you checked webalkans.eu? The WeBalkans.eu platform is a one-stop shop for news, stories, funding opportunities, and related information on cooperation between the European Union and the Western Balkans.
NEWS from the region: eCrowd – first crowdfunding platform in North Macedonia

еCrowd is the first crowdfunding platform in North Macedonia specially for civil society organisations. There is a range of fascinating and worthwhile community projects – just browse and donate!
Have you seen this?

The Publications section on www.tacso.eu offers insightful reports, resources and practical tools for the work of CSOs. Recent additions include resources for preparing proposals for the forthcoming regional Civil Society Facility and Media Programme Call for Proposals.
If you would like to sign up to our regular newsletter and other communications, please send an email with your name, organisation and country to welcome@tacso.eu.
Disclaimer:
This publication was produced with the financial support of the European Union. Its contents are the sole responsibility of the EU TACSO 3 project and its consortium partners and do not necessarily reflect the views of the European Union.
EU TACSO 3 project
Str. Blagoja Davkov no.1, entrance 1, apartment 17




Skopje

,

1000




North Macedonia
+38972220308
welcome@tacso.eu
If you do not wish to receive mailings like this in future you can unsubscribe or opt out.