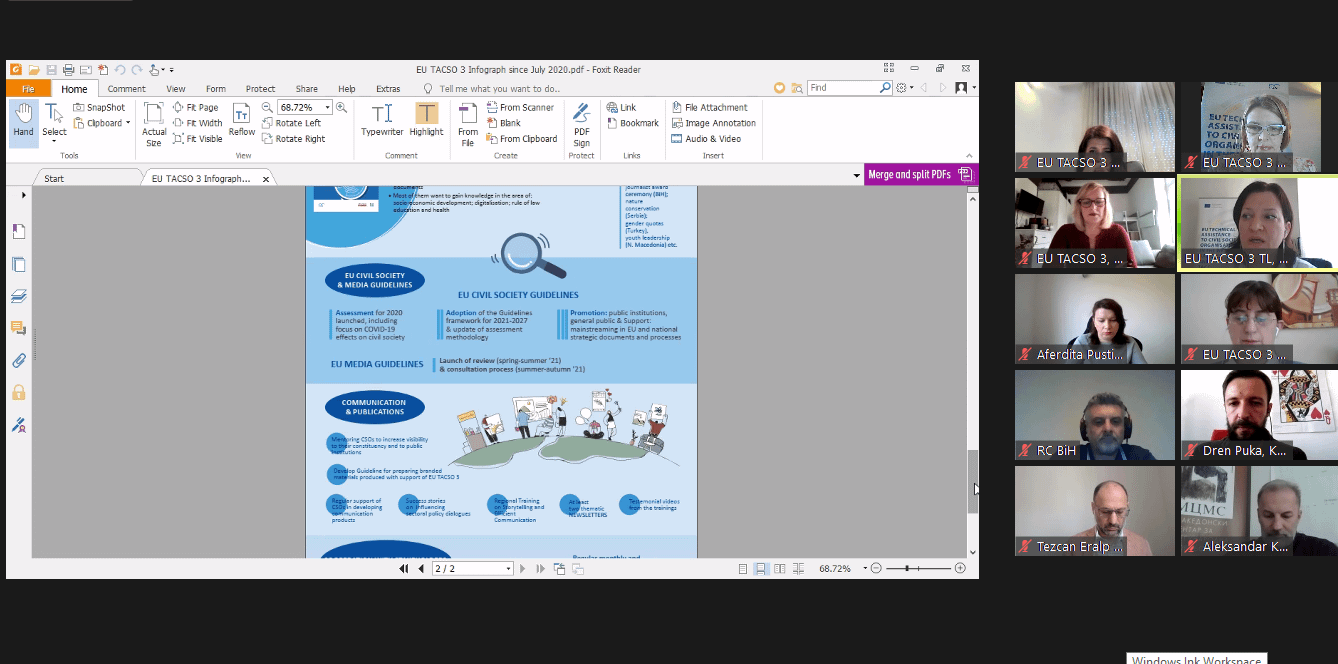 EU TACSO 3 organised the third coordination meeting with National Resource Centers (NRCs) on 28 April, 2021. The meeting was aiming to continue the overall coordination, to inform and exchange on specific aspects of EU TACSO 3 mandate and build on the national level coordination on the capacity development and exchange, EUCSG promotion and monitoring and visibility.
Representatives of all 7 NRCs, EUDs and EU TACSO 3 project team, as well as Ms. Liselotte Isaksson, Head of Section and Ms. Jlenia Destito, Task Manager in the DG NEAR's Regional Cooperation and Programmes Unit and in charge of EU TACSO 3 project, attended the meeting.
A detailed overview of EU TACSO 3 activities as of July 2020 was presented through infographics. It was noted that capacity building and hands-on trainings were specifically requested by civil society, and EU TACSO 3 has met this demand to the extent possible. All activities were adapted to on-line events due to COVID-19 pandemic.
In the first part of the meeting, participants discussed many topics including the importance and usefulness of the new approaches in capacity development by EU TACSO 3, such as mentoring and coaching, the adaptation to the working on-line and developing the ICT skills and exploring the impact of the on-line assistance provided to CSOs, strengthening of communication skills, fostering re-granting support mechanisms at the local level and P2P exchange activities.
During the second session dedicated to the promotion and monitoring of enabling environment and capacities of CSOs, participants elaborately discussed the need to bring the Guidelines on the EU Support to Civil Society in Enlargement Region closer to public institutions as well as CSOs so that they also use it in their everyday work and advocacy.
The emerging needs and ideas to harmonize the NRC methodologies and capitalize on the best practices of the NRC on the topic of their visibility were explored during the third session. Among the examples, the participants mentioned using common domain names for the NRCs, supporting CSOs in their on-line work, need to have training sessions synchronized with the specific call for applications, tailoring training, and making basic training packages available at all times.