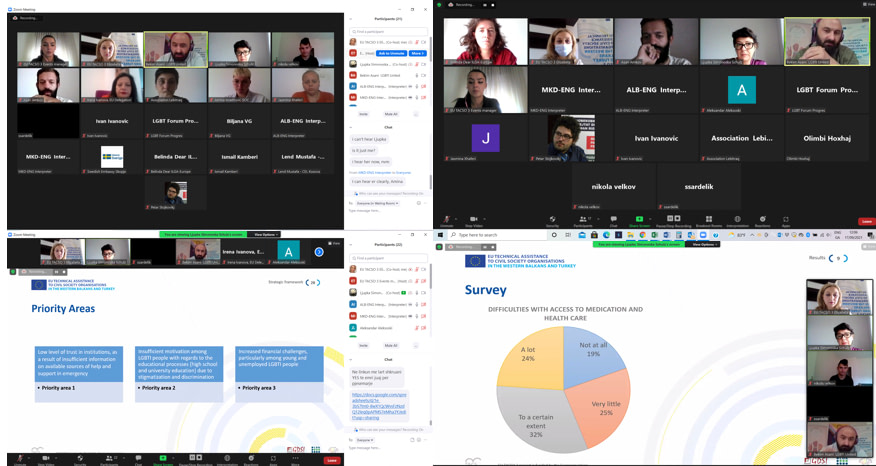 Supported by EU TACSO 3 Strategic Mentoring Program, the NGO ,,LGBT United" from Tetovo-North Macedonia, organized a regional event promoting the "Strategy and Action Plan on Emergency Response", on 17th of September online. Participants discussed the problems of LGBT persons in their respective countries especially in a time of crisis with COVID – 19 such as financial difficulties, increase of the domestic violence, stigma and discrimination, shortage of food, lost of jobs etc.
The cooperation between the police and LGBTI community was pointed as positive example, with increasing level of trust among them. A lot has been achieved in this regard thanks to capacity building for the police forces with regards to the LGBTI individuals, and therefore, such a format of capacity building / education is identified as needed. Moreover, there is a raise in the number of people seeking legal counseling, in particular among those who had lost their jobs. The need for peer-to-peer and psycho-social counseling and support was also present, due to increased feeling of depression, anxiety, as well as difficulties facing young students who had to cancel studies and return home. Noteworthy was also the rainbow asylum seekers issue that was aggravated during COVID-19. In this regard better cooperation for coordination of actions and exchange of experience across countries in the region was recommended.
ILGA – Europe added significant value to the discussion, opening perspectives and inspiration for future bridging with initiatives beyond the WB region, i.e. linkages with existing or forthcoming mechanisms and formats for cooperation within EU, that can be linked to the WB countries as well. It was concluded that the LGBT individuals face similar problems in all countries. Therefore, it was concluded that, regionalization of the approach and joint actions with the state authorities, are necessary to advance the situation of this community.
LGBT United Tetovo shared with the participants that the Strategy and Action Plan on Emergency Response for the LGBTI Community in North Macedonia will be presented on the annual meeting of the LGBTI Equal Rights Association for Western Balkans and Turkey (ERA), when the regional dimension and possibilities for replication of the initiative will be further discussed.
22 CSOs representatives attended the event, from the Western Balkan Countries well as representative of the of ILGA (The International Lesbian, Gay, Bisexual, Trans and Intersex Association) and EU Delegation in Skopje.