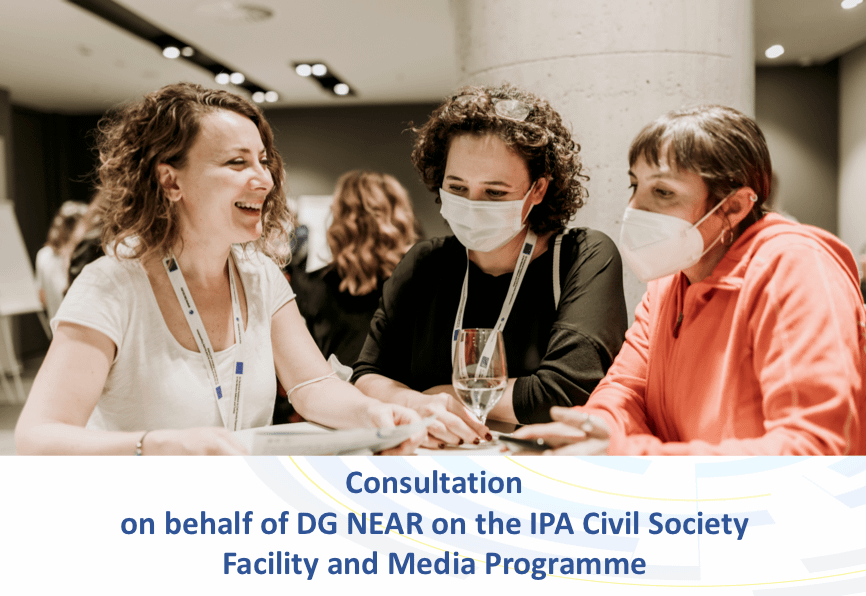 Click to survey link
In October 2020, the European Commission launched an Economic and Investment Plan (EIP) for the Western Balkans. This Plan aims to spur the recovery of the region – backed by a green and digital transition – supporting socioeconomic development and leading to sustained growth, implementation of reforms required to move forward on the EU path, and bringing the Western Balkans closer to the EU Single Market. It provides the region with assistance through investments and policy initiatives in the fields of transport, energy, digital transition, green agenda, support to the private sector, economic integration, innovation and support to human capital development. Moreover, it recognises the key role of rule of law as a cornerstone of sustainable development and underlines that, along with structural economic reforms, progress in the area of the fundamentals should continue.
In this context, Civil Society Organisations are called to play a crucial role in the EU approximation process in the identified key policy areas and in fostering participatory democracies. The strengthening of CSOs' capacities and engagement opportunities in policy- and decision-making is needed across various thematic areas of the EIP. To this end, the European Commission plans to provide substantive support to CSOs through the Civil Society Facility (CSF) and Media Programme with the launch of a regional Call for Proposals, planned in the first part of 2022.
On behalf of the European Commission, DG NEAR, the regional TACSO 3 project is carrying out this consultation, in order to receive your inputs for this upcoming Regional Call for Proposals (click here for more details) for the Western Balkans and Turkey.
This consultation will enable the European Commission to gather feedback of a hopefully large number of CSOs in the enlargement region before launching the 2022 CSF and Media Programme Regional Call for Proposals and align planned interventions with the needs that CSOs and media in the region will articulate.
Technical Assistance to Civil Society Organisations in the Western Balkans and Turkey (TACSO) is a regional project funded by the European Union (EU) that improves capacities and strengthens the role of civil society organisations (CSOs). As a part of the CSF EU mechanism, TACSO assists CSOs to actively take part in democratic processes in the region, and it also stimulates an enabling environment for civil society and pluralistic media development.
You are kindly requested to complete the survey by January 28th at 18:00 (CET), so that your input can be processed and considered in the Guidelines of the Call.
Please, make sure to provide your accurate and updated contact details in the first part of the survey, so that you may be involved in further activities of the TACSO 3 project relevant to your organisation and your interests.
We thank you in advance for your kind cooperation and we are looking forward to receiving your inputs.