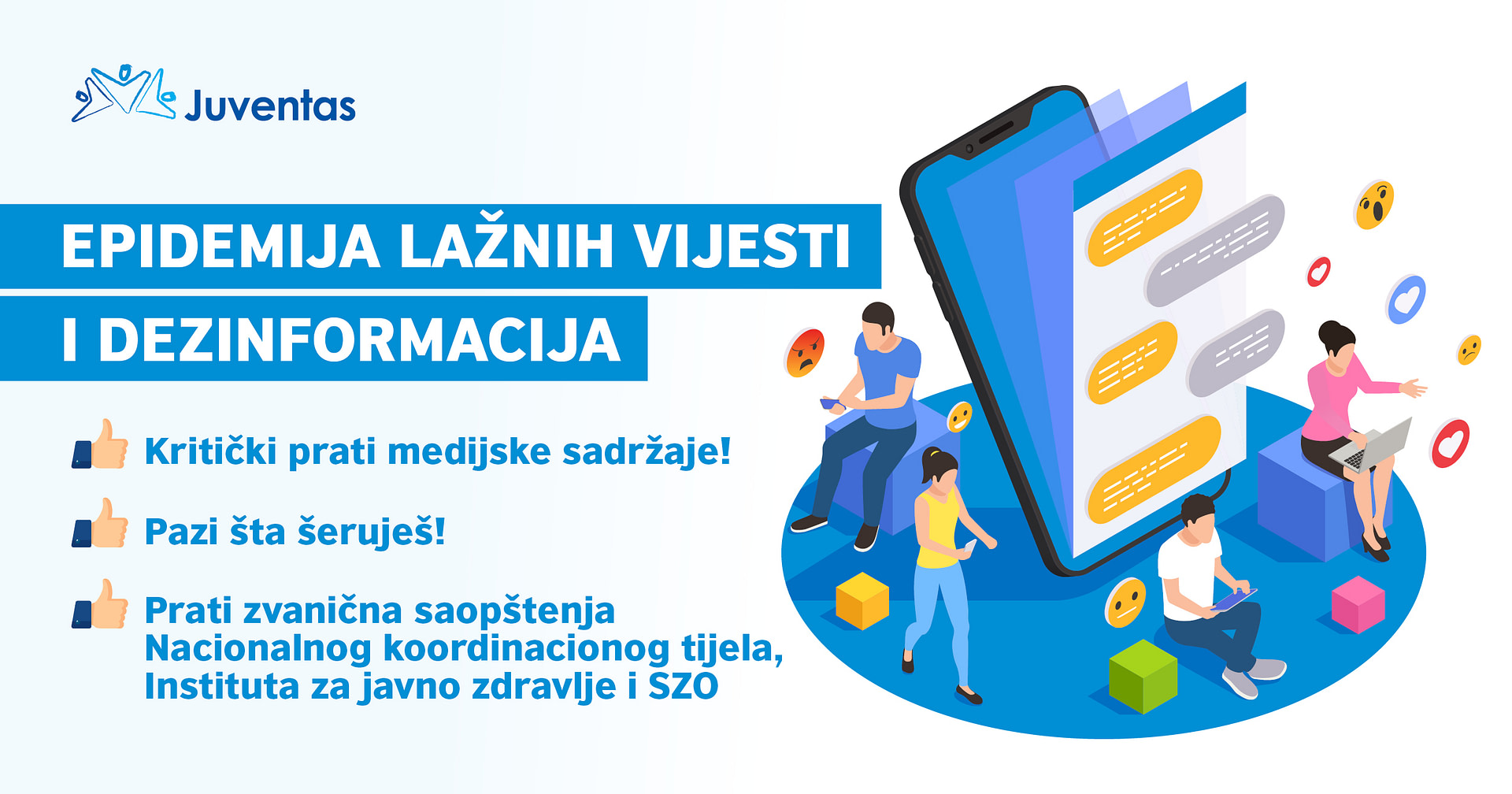 Juventas, a civil society organisation from Montenegro, has launched a media literacy campaign to provide advice to citizens on how to consume media content considering the high level of fake news and misinformation during the COVID-19 pandemic.
With schools' closure and sports, entertainment facilities, leisure activities reduced to a historic minimum or moved online, young people's information was limited to online news on social networks and media outlets. This has increased their exposure to fake news and propaganda. Juventas, launched an online campaign to tackle these issues and to warn young people and general public at this specific time about communication disorders and media risks. The objective was to encourage citizens to critically assess the content they were exposed to, so that they would be better informed and able to spend quality time-consuming media during the lockdown.
"It really was important that we tackle the issue of media literacy during the COVID-19 crisis and help the public, especially youth, to effectively respond to disorderly information and other media consumption challenges," said Mican Andrijasevic, Juventas Project Coordinator.
The campaign has had an immediate impact:
It raised awareness on the importance of media literacy and provided advice to people on how to identify and defend themselves against false news, conspiracy theories, click-baits, non-ethical material and distinguish between reliable and non-reliable sources;
It provided useful guidance for parents to protect their children from improper media material and to address the news;
The campaign also focused on the importance of the role of journalists in the current situation and celebrated the efforts and risks that they are taking every day to keep people informed in due time;
Juventas, through a storytelling video produced, highlighted the need for young people to support their elderly relatives in paying bills, utilities and avoiding exposure.
"The campaign was successful and we managed to raise awareness about all important aspects of the topic and to educate the public. The biggest challenge was to reach out to the public and to be visible in the sea of other content on social networks that doubled in size and frequency during the lockdown" said Andrijevic.
Juventas, established in 1996, is one of Montenegro 's leading CSOs, focusing on youth empowerment, youth engagement, supporting the growth of young people's critical thinking and media literacy, their development and their rights.