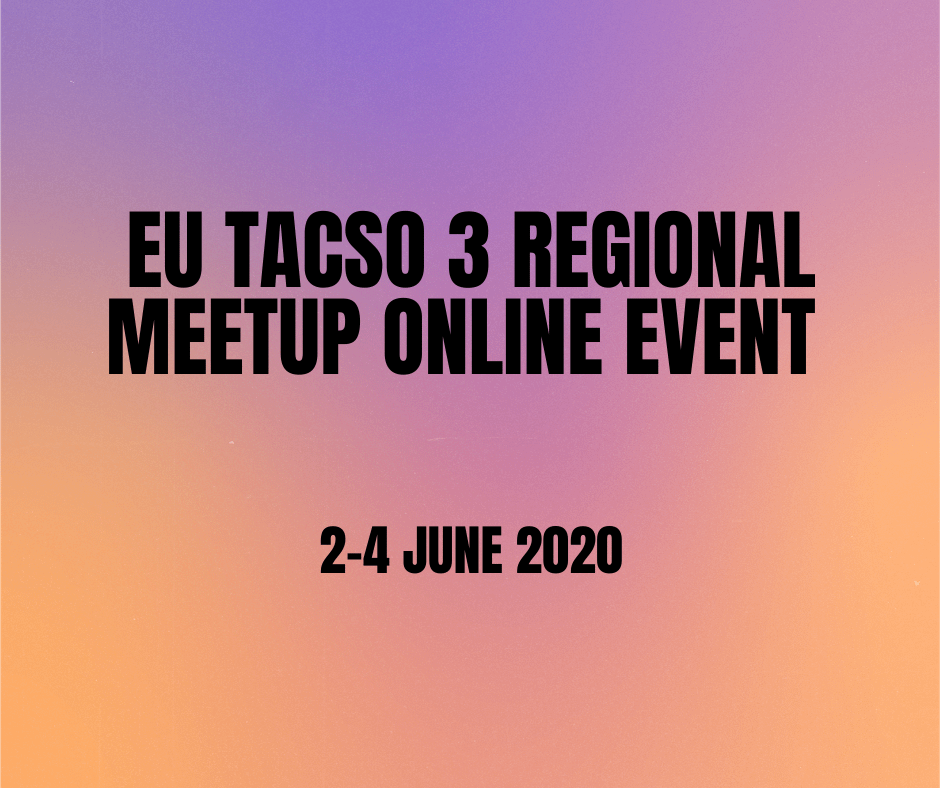 From 2 to 4 June, 2020, EU TACSO 3 Project organised the first online Regional Meet-up event titled "Emergency Response to COVID-19: Practices, Lessons and Needs of Civil Society: Regional Online Meet-Up of CSOs in the Western Balkans and Turkey". The event organized through the Zoom platform was followed by large number of participants, i.e. 85 representatives of CSOs, EU and other donors and public institutions participated on the first day, 82 on the second day and 66 on the last day, respectively. The Meet-up provided a platform for CSOs and other stakeholders from the region to learn about emergency response in general, to exchange experiences with each other and identify needs that could be addressed by EU TACSO 3 or other supporters of civil society in the region.
On the first day, Jlenia Destito from the Regional Unit for Western Balkans at the Directorate-General for Neighbourhood and Enlargement Negotiations (DG NEAR) and EU TACSO 3 Task Manager, spoke about the work European Union has done to tackle the COVID-19 pandemic. Moreover, she informed of EU support to CSOs and the media in the region and reassured about continued support of the EU for a strong civil society in the region. Tanja Hafner Ademi, EU TACSO 3 Team Leader, spoke about the challenges faced by the CSOs in the region, how the pandemic has affected them and presented future trends. First day guest speaker, Mia Vukojevic, an emergency response expert, presented her experience and challenges in working in and overcoming different crisis situations followed by Q&A session with participants.
The second day began with the exchange of experience between participants in coping with the COVID-19 pandemic with more than 20 participants providing insights on the matter. The second session was focused on presentation of two specific researches: first by Jelena Andjelic, IRIS Network Programme Manager on Social Services During Corona Virus Pandemic in Western Balkan Countries and by Rana Cotan, Secretary General from TUSEV, Turkey on the Impact of COVID-19 on CSOs in Turkey.
The third and last day opened with sharing of experience by participants focusing on how organizations should be better prepared to react and respond to crisis in the future. The second session of the day focused on opportunities provided by EU TACSO 3 to CSOs in the Western Balkans and Turkey through the Capacity Development (CD) and People to People on Demand (P2P) Programme presented by Tanja Bjelanovic, EU TACSO 3 Capacity Building Expert and Emina Nuredinoska, EU TACSO 3 P2P Manager. During the presentation, participants were informed about EU TACSO 3 CD strategy in CSO capacity development, as well as 10 Programme Packages with over 70 planned events for the duration of the project. P2P On-demand programme was presented as an online mechanism that enables CSOs in the region to request support from EU TACSO 3 in capacity development, exchange and networking, based on their own ideas and need.
The following are general conclusions and list of issues that were flagged during the three-day discussion:
-Specific legal framework for pandemics should be taken into account;
-CSOs need to keep integrity;
-Stakeholders should create country-specific strategies;
-The focus of the response should be on long-term impact;
-CSOs should prepare for the crises: Have policies and protocols, be well-trained and have crisis management in place;
-They should take care of organisation's staff;
-Cooperate with "unusual" partners;
-Sharing information and educating the community is key;
-Monitoring transparency of government institutions, including the state of fundamental freedoms and funds distribution, and inform citizens is important;
-Support is needed for CSOs to diversify fundraising;
-Advocate for improved conditions for philanthropy development;
-There is the need to develop post-crisis pattern;
-Technology provides more opportunities to collaborate and access;
-The needs of civil society are not unified;
-We need joint efforts of civil society! CSO network – platform in times of crisis.
This event was facilitated by Tanja Bjelanovic, CEU TACSO 3 Capacity Building Expert and co-facilitated by Elizabeta Markovska Spasenoska, Country Coordinator for North Macedonia.
Find here the full Event Report with findings and conclusions.
Find here here the video recordings of each day.