Dear reader,
We are happy to present to you the 5th issue of our project Newsletter! The Newsletter has a simple mission – to inform the public about our work and ongoing activities.
The current issue covers activities from March to June 2021. This spring, one year later – we witnessed a lowering in the numbers of COVID-19 cases in the region. Civil society, especially grassroot organisations, without a doubt, adapted quickly and responded readily and effectively. The former shows that a humanitarian, compassionate and caring attitude is not lost in these difficult times. On the contrary, civil society is vibrant and plays its role as an emergency response facilitator, enabler and implementer.
At the same time, CSOs did not stop their work in other fields although COVID-19 response permeated their every activity.  Also, there is almost no event organised by our project, where the consequences of the pandemic on civil society and ways to respond to them were not opened and discussed. During the People-to-People (P2P) event under the title "One Year Later – Grassroot Organisations Taking the Lead in Solidarity Response to the COVID-19 pandemic", it was concluded that while the pandemic brought constraints on CSOs, it generated solidarity and cooperation as well as innovation, primarily through the use of digital and ICT means.
Likewise, EU TACSO 3 continued its work in all areas of its portfolio. In this Newsletter we tried to show just a sample of our work from the past months. We are also continuing to showcase the grassroot work of organisations during the pandemic through featuring a further set of success stories. To stay informed on what is to come during and especially after summer, stay tuned to our project website at tacso.eu and our social media.
Enjoy your read,
On behalf of the EU TACSO 3 team
Tanja Hafner Ademi
Team Leader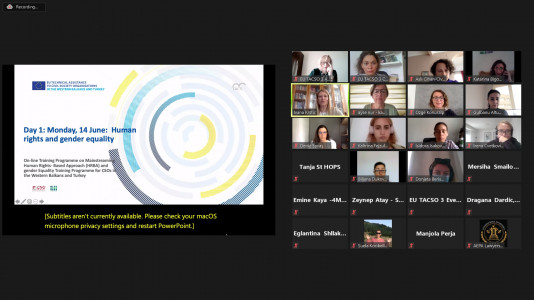 Regional and Country Trainings on Mainstreaming Human Rights Based Approach (HRBA) and Gender Equality (GE)
In the course of three and a half weeks during June 2021 one three-day regional training and five national language trainings dedicated to the Integration of the Human Rights Based Approach (HRBA) and Gender Equality (GE) in the work of the CSOs were organised by EU TACSO 3. The trainings aimed to introduce participants to the Human Rights Based Approach (HRBA) and Gender Equality (GE) concepts, principles and tools as well as to encourage CSOs to develop explicit policies to integrate HRBA and GE principles into their internal policies and operational activities. The trainings also aimed at instigating inclusiveness and participatory in terms of respecting, protecting and fulfilling the full range of human rights.
Please find more information on the regional training including the trainings on national languages by clicking the READ MORE button.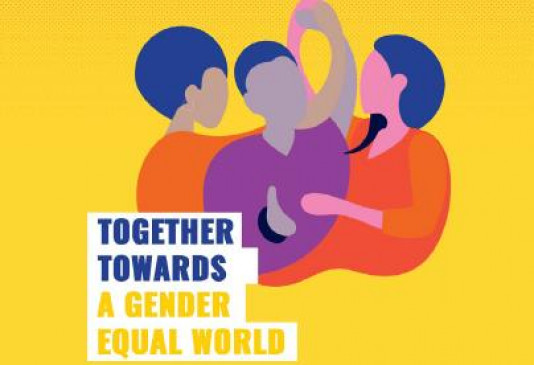 CSOs and Stakeholders in North Macedonia and Kosovo* Consulted on the EU Gender Action Plan III  Country Level Implementation Plans
The consultations aimed to introduce the audience to the content of GAP III, its direct link to the Instrument for Pre-Accession III and other relevant international obligations as well as to provide CSOs' views with regards to what gender inequalities exist, how can CSOs be involved in the implementation of GAP III and what are their priority areas for work. While the consultation in Kosovo was organized by Kosovo Women Network (KWN) and in North Macedonia by Reactor, EU TACSO 3 assisted with technical support
The event in Kosovo, which took place on 19 May, was opened Hillen Francke, Deputy Head of EU Cooperation Section, who noted that the European Union adopted the Gender Action Plan (GAP) III, "An Ambitious Agenda for Gender Equality and Women's Empowerment in EU External Action" 2021-2025, in November 2020. Additionally, it was emphasized that the EU strives to have 85% of its contracts contribute to gender equality.
Irena Ivanova, Programme Manager in the Delegation of the EU in the Republic of North Macedonia addressed the participants in a similar event organized on 22 June in North Macedonia. She emphasized the need for support to the local grassroot activism and CSOs work at the local level. "CSOs are one of the most important stakeholders in the society, especially grassroot organizations who work in the field".
Disclaimer:
This publication was produced with the financial support of the European Union. Its contents are the sole responsibility of the EU TACSO 3 project and its consortium partners and do not necessarily reflect the views of the European Union.
Kosovo (*) – This designation is without prejudice to positions on status, and is in line with UNSCR 1244/1999 and the ICJ opinion on the Kosovo declaration of independence.
Note for some browsers: If you want to see pictures click on a show blocked content
EU TACSO 3 project
Str. Blagoja Davkov no.1, entrance 1, apartment 17




Skopje

,

1000




North Macedonia
+ 389 260 90 684
If you do not wish to receive mailings like this in future you can unsubscribe or opt out.